Hilltop Contracting Inc. is recognized as a trendsetter in design, technology,
and quality construction of buildings throughout the entire Midwest.
Don Koveleski, owner of Hilltop Contracting, Inc., has built and maintained a superb reputation throughout the Midwest. Every team member at Hilltop Contracting, Inc. is uncompromising when it comes to open, honest communication.
Hilltop Contracting, Inc. brings not only expertise but also quality craftsmanship to both new home and commercial building and any type of remodeling in the residential or commercial field.
"An excellent reputation is very important to us and we reach this goal through one-on-one communication with clients, architects, and subcontractors."
HILLTOP CONTRACTING IS YOUR COMPETE BUILDING SERVICE.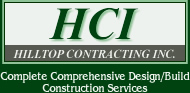 Hilltop Contracting Inc.
10870 Gates Rd, Clarklake, MI 49234
Email: don@hilltopcontracting.com
Phone: (517) 474-0786